Jonathan Robinson has reached over 250 million people worldwide through his TV and radio appearances, books, CDs and speaking events. In this section, you can find brief clips of his appearances on Oprah and CNN, as well as articles about him and his work from USA Today, The Los Angeles Times, and other newspapers.

Video Clips of Jonathan
on Oprah and CNN


Endorsements
"…an absolutely wonderful book."

"Essential advice for those seeking a spiritual partnership."

"I feel like he changed my life…"

"Shortcuts to Success provides people with simple, yet extremely
effective ways to create the lives they truly deserve."

"Your standing ovation was well deserved. I'm personally using many of the methods you outlined in your seminar."


Book Reviews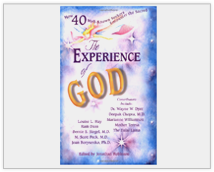 Seeing God Through Spiritual Experts' Eyes
As a spiritual seeker for the past 20 years, Santa Barbara psychotherapist Jonathan Robinson says he always thought he knew a lot about religion.
Then one day a friend said something about the way she experienced God, and it was so different from Robinson's own religious experience that "I initially thought she was joking," he says. That's what inspired him to write The Experience of God: How Well-known Seekers Encounter the Sacred.
Surveys show about 96% of Americans believe in God or a universal spirit, but they probably don't all think about or relate to God the same way.
"The best way to learn any new skill or behavior is to learn it from an expert," Robinson says. "In our culture, if we want to learn a new language or a new business, we find someone who already knows what we want to learn and we take lessons. I wanted to know what the most noted spiritual experts on the planet did in order to know God more deeply."
Robinson came up with 10 key questions and sent them to a wide range of "experts," from religious leaders to scientists, philosophers, entertainers, and authors. Here are some of their responses exerted with permission from Hay House publishing.
How do you encounter God?
Pat Boone, singer, author: Most mornings, after my physical and spiritual exercises, I try to sit down and let Him speak to me out of his Word, the Bible. I let the psalmist David "prime my pump," and from there I usually move into specific prayer, asking God to help me and others who have particular needs.
LeVar Burton, actor (Roots, Star Trek: the Next Generation): One thing I do is to create altars wherever I am. They trigger my stopping and acknowledging the presence of God in my life. I have an altar in my house, in my office, in my car, and in my trailer at work. I have a traveling altar space for being on the road. On the altars, I place objects that hold power and meaning for me. Creating and maintaining these altars helps me encounter God.
Kenny Loggins, singer, songwriter: God speaks to me through love. God sings to me, through me. God holds me in her arms at night, and my heart opens again and again. I receive the gift of love in her eyes. God is a grace of insight, the courage to let go.
Bernie Siegel, physician, author: I look at trees in the Fall, and I say, "why bother to turn color? Why not just fall on the ground?" When I answer these questions, I experience God. … Leaves turn colors so we will get the message that before we let go of the tree of life, we need to show her beauty. … These things show me that we are loved.
How do you find God in daily life?
Wayne Dyer, self-help author (Your Erroneous Zones, Pulling Your Own Strings): I practice awe. I mean I'm in awe of the dishes, I'm in awe of my liver, I'm in awe when I play tennis, I'm in awe of it all. I'm just awe struck with the magnificence and the miraculousness and the bliss that is in this world.
M. Scott Peck, psychiatrist and author (The Road Less Traveled): For me Jesus has been a useful tool whenever I have had a significant dilemma and am trying to figure out my calling. At such times I simply ask, "hey Jesus, what would you do if you were in my shoes now? How would you behave?" It is surprising how clear the answer usually is. And often how startling.
What does God Want?
Louise Hay, new age author (You Can Heal Your Life): God wants us to be joyful and to share in the great abundance available to every one of us. … The universe rejoices when we take advantage of all the good it has to offer.
The Dalai Lama, Tibetan Buddhist leader: My mission is to express my feeling about the importance of kindness, compassion, and the true sense of brotherhood. … If I practiced anger or jealousy or bitterness, no doubt my smile would disappear.
What helpful beliefs do you have?
Marianne Williamson, new age lecturer and author (A Return to Love): Belief in God is not a particularly meaningful concept. Ultimately it's the experience of God that matters. A universal theology is not necessary, but a universal experience is. As A Course In Miracles (a new age text) student, I know the Course is not trying to get us to believe in God. It's trying to get us to believe in one another. The belief in one another is the experience of God.
Mother Teresa, nun, missionary: To me, God and compassion are one and the same. … Just a smile, or carrying a bucket of water, or showing some simple kindness. These are the small things that make up compassion. Compassion means trying to share and understand the suffering of people. And I think it's very good when people suffer. To me, that's really like the kiss of Jesus. And the sign, also, that this person has come so close to Jesus, sharing His passion…. When we ultimately go home to God, we are going to be judged on what we were to each other, what we did for each other, and, especially, how much love we put in that. It's not how much we give, but how much love we put in the doing–that's compassion in action.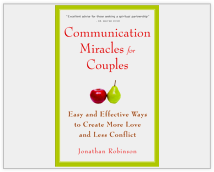 Can We Talk? A Guidebook
We've all heard that communication is the key to a stable, fulfilling relationship. But how are we supposed to master the skills?
"Communication Miracles for Couples (Red Wheel/Weiser/Conari 2009), by Jonathan Robinson, is a guide for twosomes who want to break down the barriers that inhabit communication.
A psychotherapist from Santa Barbara, Robinson offers real-life examples, tips and exercises designed to create less conflict and more love. And kudos to him for crediting his former girlfriends in the acknowledgments, "for putting up with me when I was not very skillful at communicating, and lovingly helping me discover what works." What a guy.
"I define appreciation as the art of telling your partner what you like about him or her. To get in touch with what you appreciate, you can simply ask yourself, "What do I like or appreciate about my partner?" By focusing on that question and occasionally expressing your answers to your sweetheart, it will help to keep her self-esteem bank balance in abundance. In addition, when difficulties arise between the two of you, expressing an appreciation can help your partner let go of blaming you or being defensive."
"I had a couple in my office named Sarah and Jim who both complained that they didn't feel loved by the other. Sarah's main way of feeling loved was through hearing the words, "Honey, I really love you," in a very soft and gentle voice. Every time Jim tried to say these words, they came out wrong. Finally, I took him into a different room, and I coached him till he said the words in just the right way. He walked back into my office and said, "Honey, I really love you," in a really sweet tone of voice—and Sarah immediately got tears in her eyes. Jim was so surprised at this result that he quickly turned to me and said, "Hey, this stuff really works!"
"I've got good news, and I've got bad news. The bad news is, if you want a happy and loving relationship, you're going to have to give something up: your insistence on being right. When you insist on being right, what you indirectly communicate to your partner is that she is wrong. You simply can't insist on being right (a form of blame) and have intimacy. The good news is, if you're willing to let go of being right, you can easily experience plenty of love, harmony and fulfillment in your relationship."
"In any intimate relationship, your partner will eventually violate many of your rules. When our rules are stepped on, we get upset. In fact, every upset in a relationship is due to two people having different ideas of the acceptable way of doing things. When our rule is not respected by our partner, we feel hurt or rejected. Blame sets in. in my work with couples, I attempt to show them there are no universal standards of what should happen in a relationship. Once partners can see there's no clear-cut correct way of doing things, it becomes easier for them to share their needs without making their partner wrong for how they've acted in the past."
"Most couples have to keep dealing with the same old problems, because they never come to a specific agreement as to how to resolve anything. To avoid this mess, learn to negotiate agreements that work for both partners."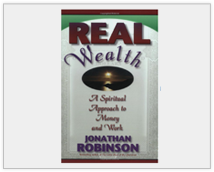 Money May Cure Your Ills; Just Tear It Up
If you want to get wealthy in life, Santa Barbara author Jonathan Robinson says the first thing to do is rip up your money. According to the best-selling writer, all it takes to make lasting and significant changes is to place a value on the promises we make to ourselves–literally.
Robinson, who led a crowd of about 40 people in shredding dollar bills as part of a demonstration, has developed an effective therapy that requires individuals to rip up money as penance for breach promises. A dieter, for instance, who swears off ice cream, but digs in anyway, would have to pull a few bills out of his pocket at the end of the week and tear them up.
Robinson has discovered that placing a monetary value on commitments hits people where they live. "Money in this culture is pretty close to God," he said. "It is the one the sacred thing. Somehow this act of ripping up money is a powerful message to your subconscious. It's a signal to your brain that you are wasting something. It's an immediate pain, and people will a do a lot to avoid immediate pain, even if it's small."
Whether destroying money is sacrilegious or simply uncomfortable, the therapy works surprisingly well, Robinson said. From helping professionals become more successful to coaxing addicts to give up drugs, the approach has motivated thousands of people to make small changes that have bettered their lives.
"It was astounding to me that people would change the course of their life to avoid ripping up two dollars," said Robinson, a licensed psychotherapist. "One guy was snorting $7000 of cocaine a month, and he stopped to avoid ripping up two dollars."
Robinson's therapy emphasizes the value of promises and the personal enrichment that can be derived from using money purposefully.
"Normally we use money in this culture largely as a means of distracting ourselves, so this is a way to use money to actually get your life back on purpose," he said. "It (ripping up money) is a way to keep integrity. Most people have no power to their word. It used to be that your word meant something. We make promises and don't keep them all the time, and our lives reflect that sloppiness."
His new book, "Real Wealth–a Spiritual Approach to Money and Work," encourages people to seek a calling–the work they want to do–rather than just a job. When someone finds a calling, money becomes a tool towards fulfilling a life's work, rather than an end to itself, he explains.