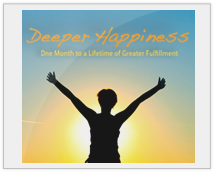 Deeper Happiness: One Month to a Lifetime of Greater Fulfillment
In this course, you will learn all of the most effective, simplest and quickest ways to dramatically increase your level of fulfillment. Increasing your happiness has many side benefits — like greater wealth, health, and even greater satisfaction in your relationships.
You will receive all of this:
30 Sessions of inspiring stories and methods—1 for each day of the month
Reminder Cards to help you remember the simple methods for each day
A list of little-known inspiring movies and books that can help keep you motivated on your journey to deeper happiness
A simple way to keep track of the methods that you most enjoyed, as well as a way to track how much your happiness increases
If you have a coupon code for the MP3s, enter it here, Clicking submit will take you to the checkout.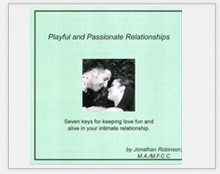 Playful and Passionate Relationships
Most relationships begin as both playful and passionate. Yet, over time, the mechanical nature of ordinary life can take its toll on intimate relationships. In this audio download, you'll get tips on how to bring more fun, passion, and enjoyment into your relationship. In addition, you'll be guided to create a plan for making sure you follow through with your partner.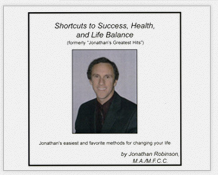 Shortcuts to Success, Health and Life Balance
This audio download includes my "greatest hits" of tips on easy ways to make your life better. You'll learn how to communicate more effectively, lose weight, live longer, be happier, and get on top of your life by focusing on what is truly most important to you.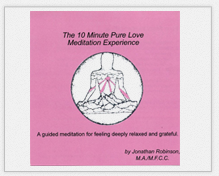 The Ten Minute Pure Love Meditation
Meditation is a great stress reducer. The problem is that it can be hard to do when first learning how to do it. In this audio download, you'll learn a simple and effective way to tap into the peace of meditation. Better yet, on Track 2, you'll be guided into a deep state of peace, love, and gratitude through a 10 minute guided meditation. By listening to this guided meditation, you'll quickly feel refreshed and more ready for your day.